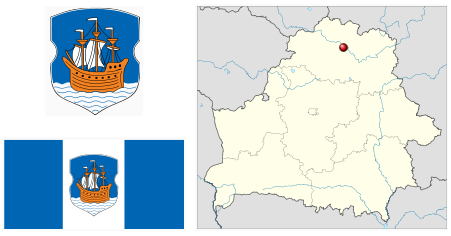 First mentioned: 862
Population: 82,547
Time zone: EEST (UTC+3)
Area code(s): +375 214
Postal Code: 211291, 211400 - 211402, 211404 - 211415, 211422
Website:
www.polotskgik.by
More details you can find on: www.wikipedia.org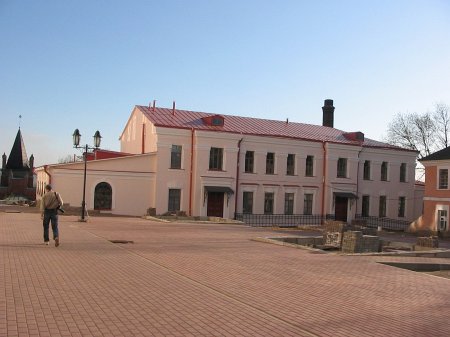 Pictures: view on Polotsk
To order flowers to Polotsk, please follow the steps:
1. Add flowers to cart
2. In the drop-down list "Country" select "Belarus"
3. In the drop-down list "City" select "Polotsk", proceed with the order
History of Braslav

Polotsk is one of the most ancient cities of the Eastern Slavs. The Primary Chronicle listed Polotsk in 862 (as Полотескъ, /poloteskŭ/), together with Murom and Beloozero. However there is debate about this, as some historians believe Polotsk was not yet in existence in the 9th century, and this record was an invention of the compiler.[7] However, an archaeological expedition from the Institute of History of the National Academy of Sciences of Belarus suggests that Polotsk did exist in the first half of the 9th century. The Norse sagas describe the city as the most heavily fortified in all of Rus.
The first Belarusian printer, Francysk Skaryna, was born in Polotsk around 1490. He is famous for the first printing of the Bible in an East Slavic language (in Old Belarusian) in 1517, several decades after the first-ever printed book by Johann Gutenberg and just several years after the first Czech Bible (1506).
In September 2003, as "Days of Belarusian Literacy" were celebrated for the 10th time in Polotsk, city authorities dedicated a monument to honor the unique Cyrillic Belarusian letter Ў, which is not used in any other Slavic language. The original idea for the monument came from the Belarusian calligraphy professor Paval Siemchanka, who has been studying Cyrillic scripts for many years.
We will glad to deliver flowers and gifts to Polotsk, and to other cities of Vitebsk region: Beshenkovichi, Chashniki, Dokshitsy, Dubrovno, Glubokoe, Gorodok, Lepel, Liozno, Miory, Orsha, Polotsk, Postavy, Rossony, Senno, Sharkovshchina, Shumilino, Tolochin, Ushachi, Verkhnedvinsk.
Successful shopping!
Best wishes,
Delivery service of Shop.Solard.com